We would like to make an announcement on" Tokyo Tech AOTULE Summer Program 2021" organized by the Engineering Schools of Tokyo Tech (School of Engineering, School of Materials and Chemical Technology, and School of Environment and Society). The exchange period will start from June 1 to August 31, 2022.
In the three-month research-oriented program, participants will have an opportunity to conduct research projects under the supervision of Tokyo Tech's faculty members, take some designated courses, and experience Japanese culture. In addition, students are required to present their work and home institution during a two-day workshop called the Multidisciplinary International Student Workshop (MISW) 2021.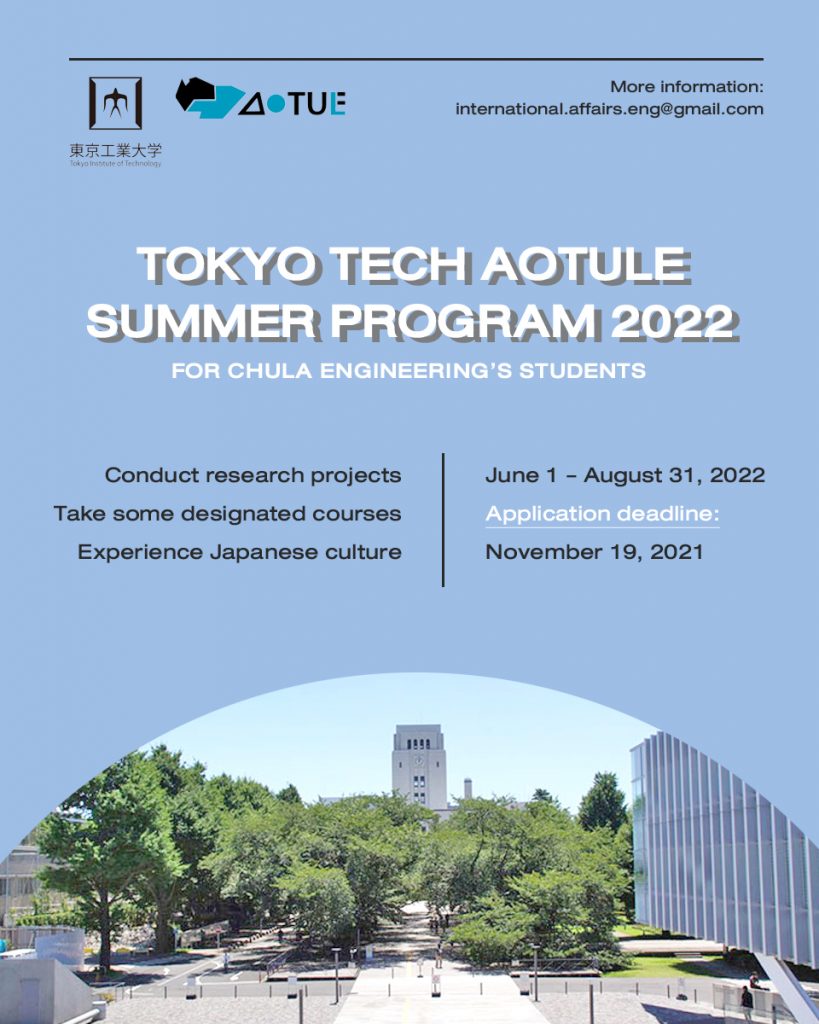 Application:
Postgraduate or final-year undergraduate students are eligible to apply. Up to two candidates will be selected.
Please download the application form and details HERE
Submit your application directly at our office or through international.affairs.eng@gmail.com before November 19, 2020. The interview schedule will be announced later. The announcement of selected candidates will be notified by mid-January 2021.
Additional Info:
Selected candidates are required to purchase their air tickets to/from Japan at their own expense and notify the flight details to the coordinator in advance. Tuition fees for the program are waived. Daily allowance is provided and a dormitory is sponsored by Tokyo Tech.
* Kindly be informed that the program may have to be shortened, postponed, or totally canceled due to the unpredictable spread of COVID-19.